Social Media "Fraught with Peril" for Judges
January 7, 2020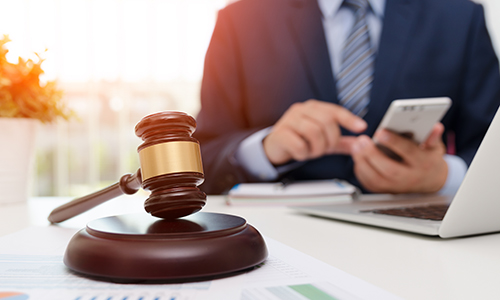 At the end of September, Chief Justice John D. Minton of the Kentucky Supreme Court disqualified Franklin County Circuit Judge Phillip Shepherd from presiding over a politically charged lawsuit challenging an investigation conducted by Republican governor Matt Bevin's administration. The reason? Judge Shepherd had liked a Facebook post containing a photo of a Democratic lawmaker with a campaign volunteer of Democratic Attorney General Andy Beshear—the governor's opposition in the upcoming election.
The governor's legal team claimed the judge's actions raised questions about his impartiality, and the chief justice agreed. In the nine-page decision, Justice Minton ultimately concludes that "Judge Shepherd's 'like' may reasonably be perceived as a public endorsement of a candidate's campaign, that the candidate is a party in this case, and that this case involves a central issue in that candidate's campaign, this is one such circumstance. Accordingly, Judge Shepherd must be disqualified from further presiding over this case."
Prior to being removed from the case, Judge Shepherd had defended his impartiality, drawing attention to the fact that he'd also liked posts supportive of Bevin's campaign as well as other Republican and Democratic candidates. Yet Justice Minton asserted that those likes "constitute additional violations of Rule 4.1(A)(3)"—the rule prohibiting judges from publicly endorsing a candidate for any public office.
Clearly, the role of technology and the Internet in our legal system is changing just as fast as technology and the Internet itself. And social media can be a minefield when it comes to impartiality.
Justice Minton puts it well: "As the Judicial Ethics Commission wisely admonished in its 2010 opinion, these services are 'fraught with peril' for judges and should be used with extreme caution. While judges are not ethically prohibited from using social media, their use is subject to the Code of Judicial Conduct in the same manner as other extrajudicial activities. Judges should review their social-media presence to ensure it does not violate the Code of Judicial Conduct and should act prudently when 'liking' pages, posts, or tweets or otherwise interacting with other users on social media."