Stratum: Creating a Community for Solos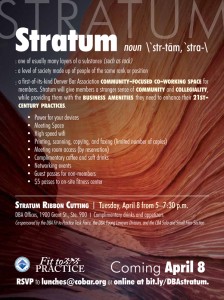 As a soon-to-be-graduate, I often find my head swirling with concerns and worries about life after law school. Lately, the thought of life in a big law firm has lost its luster. Like many students, I find the money, the work security, and the continued training and mentoring very appealing, but I also can't imagine life any more full than it already is just with school. But what other options are there? There are the small or medium-sized firms around town, but most of them rarely hire recent grads—and good luck getting an in-house gig. So what's left? Banding together with a couple other recent grads and starting a firm, or, scarier yet, hanging out my own shingle?
The Denver Bar Association (DBA) was trying to answer exactly this question when it unveiled Stratum on April 8. Stratum is a members-only, co-working space for lawyers at the Colorado and Denver Bar Associations. It offers meeting spaces, networking events, and just about every business amenity a lawyer could need. Alli Gerkman, Director of Educating Tomorrow's Lawyers, co-chairs the Career Development and Improvement Committee of the DBA's Fit to Practice Task Force that established Stratum, and said that its real value, however, is not just the amenities. "Space is important, meeting rooms are important," she said, "but a huge piece of what happens is about community." That's what Stratum really has to offer: a cooperative atmosphere where attorneys can bounce ideas off one another and receive the collegial support they otherwise would not have out on their own. "This isn't about going into a cubicle and working by yourself," Gerkman said. "This is fairly new for us, and fairly new among bar associations. We hope it can be a solid resource for lawyers."
And, Stratum is not just for freshly minted lawyers. It is also a place for experienced lawyers to come to work, receive and give referrals, and discuss the intricacies of the law with one another.
So while I don't have an answer to all the questions swirling around in my head, I at least know that for anyone practicing solo, there is now a resource out there specifically for them.
For more on Stratum, you can also view articles from the American Bar Association's Bar Leader and the DBA's The Docket.
Riley Combelic is a third-year law student at the University of Denver Sturm College of Law and contributes to IAALS Online. Please direct inquiries about this post to iaals@du.edu.