Survey Reveals Hiring Partners Seek Real World Readiness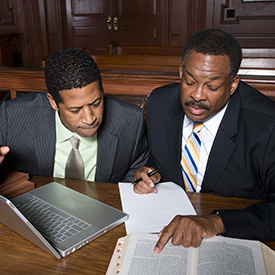 In a recent paper, LexisNexis examined a study of legal employers' perceptions of recent law school graduates. In a survey of 300 hiring partners and senior associates, 95% believed that law students lack key practical skills at the time of hiring. Across both litigation and transactional practices, attorneys noted a lack of understanding of what happens in the practice of law.
Along with drafting legal documents, the largest gap in knowledge and skill according to litigators was the ability of recent graduates to perform advanced legal research, with 81% of respondents saying that it was very important. Sixty-six percent of litigation attorneys deemed writing and drafting skills to be highly important for new associates, yet more than half noted that recent graduates lacked practical experience, particularly in drafting of settlement agreements, briefs, dispositive motions, deposition questions and interviews, and jury questionnaires.
The study revealed similar findings from attorneys in transactional practices. Ninety-five percent of respondents with a transactional focus believed that new graduates lack practical transactional skills, including understanding of fundamental business and financial concepts, conducting due diligence, finding forms/checklists, drafting simple contracts and agreements, and locating company information. According to survey respondents, new graduates are most lacking in regard to drafting substantive contracts and ancillary agreements, locating optional/alternative clauses, negotiating contracts and salient provisions and, among large firms, reading a balance sheet or basic financial statements.
Ascertaining the full picture of the knowledge, skills, and competencies that new lawyers need to succeed is the first goal of the Educating Tomorrow's Lawyers Foundations for Practice project. A nationwide survey of attorneys recently concluded and is beginning to be analyzed. Using the results, the project will recommend models of legal education to help promote the necessary foundations for new attorneys and build tools for employers so they can make better entry-level hiring decisions.
Hunter Metcalf is a third-year law student at the University of Colorado Law School and contributes to IAALS Online. Please direct inquiries about this post to iaals@du.edu.