Ten Lessons Law Schools Can Learn from Other Educational Programs in Evaluating Their Curriculum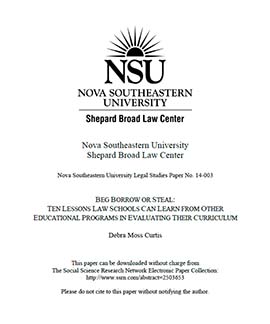 Professor Debra Moss Curtis, of the Nova Southeastern University Law Center, has published an article calling for legal educators to look at other programs in higher education, as well as experts who study education, as guidance when considering reform within legal education.
Beg Borrow or Steal: Ten Lessons Law Schools can Learn from Other Educational Programs in Evaluating Their Curriculum outlines suggestions from other areas of education that "should be considered by every institution as part of its new plan for legal education in the 21st Century." Many of Professor Curtis's ideas align with the mission, work, and recommendations of Educating Tomorrow's Lawyers:
Fostering collaborating between law schools and professionals/professional societies;
Beginning with the end in mind, by using a model of what a graduate should look like to design curricula that teach students those skills;
Creating a culture where professors share their curricula with others to expand and refine teaching methods;
Aligning with best practices and using meaningful assessment data to measure student outcomes; and
Investing in faculty professional development, which is intentional, ongoing, and systemic.
Riley Combelic is a third-year law student at the University of Denver Sturm College of Law and contributes to IAALS Online. Please direct inquiries about this post to iaals@du.edu.