A Signal to Employers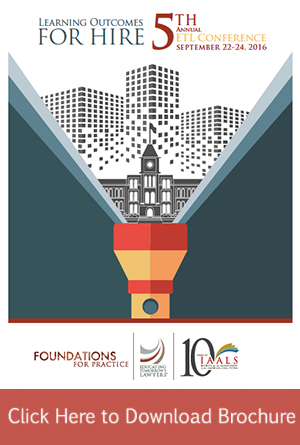 Law schools across the country are talking about learning outcomes—what should they be, how do you develop them, and how do you measure them? But what if learning outcomes could be more than an ABA requirement and an internal tool to evaluate student learning objectives? What if learning outcomes could also signal to legal employers that students have the foundations they desire in their workplace? 
Our 5th Annual Educating Tomorrow's Lawyers Conference: Learning Outcomes for Hire focused on how to create meaningful learning outcomes, how to measure whether those outcomes are being met, and how to turn those outcomes into tangible hiring criteria for legal employers. The conference was held in Denver on September 22-24, 2016.
Building on the success of our last four Educating Tomorrow's Lawyers conferences, the data from our Foundations for Practice project, and the wisdom of the conference participants, this highly interactive conference supported collaboration and sparked innovation—in law schools and across the broader movement to reshape legal education.

Agenda
Thursday, September 22
11:00 a.m.  Registration Opens
12:45 p.m. Welcome and Five Years of Educating Tomorrow's Lawyers
Alli Gerkman, Director, Educating Tomorrow's Lawyers
1:00 p.m. Ignite Presentations
5:00 p.m. Adjourn
5:30 p.m. Cocktail Reception
6:30 p.m. Educating Tomorrow's Lawyers Award Ceremony and Dinner
Friday, September 23
8:00 a.m. Breakfast
9:00 a.m. Welcome to Day Two
9:15 a.m. The Whole Lawyer and the Character Quotient
Alli Gerkman, Director, Educating Tomorrow's Lawyers
9:45 a.m. Evaluating Tomorrow's Lawyers: Leading the Way to Learning Outcomes
James E. Moliterno, Vincent Bradford Professor of Law, Washington and Lee University School of Law
Docia L. Rudley, Executive Director for Assessment, Texas Southern University Thurgood Marshall School of Law
Monica Hof Wallace, Dean Marcel Garsaud, Jr., Distinguished Professor of Law, Loyola University New Orleans College of Law
Moderator: Michael J. Madison, Professor of Law, Faculty Director, Innovation Practice Institute, University of Pittsburgh School of Law
11:15 a.m. Break
11:45 a.m. Small Group Breakout #1*
12:45 p.m. Lunch
2:00 p.m. Evaluating Tomorrow's Lawyers: Lessons from Legal Employers
Karen L. Febeo, Managing Director, Professional Development & Training, Goodwin
Ann Roan, State Training Director, Colorado State Public Defender
Moderator: Melissa Gibson Swain, Associate Director and Clinical Instructor, Health Rights Clinic, University of Miami School of Law
3:00 p.m. Break
3:30 p.m. Small Group Breakout #2*
4:45 p.m. Reception
Saturday, September 24
8:00 a.m. Breakfast
9:00 a.m. Welcome to Day Three
9:15 a.m. Building on Foundations for Practice: Takeaways for Law Schools
Josie Gough, Clinical Assistant Professor, Director of Experiential Learning, Loyola University Chicago School of Law
Jerry Organ, Professor, University of St. Thomas School of Law
Patty Powell, Assistant Professor of the Practice and Director of the Academic Achievement Program, University of Denver Sturm College of Law
Sophie Sparrow, Professor of Law, University of New Hampshire School of Law
10:15 a.m. Small Group Breakout #3*
11:00 a.m. Adjourn
* closed to press
Location
The Curtis Hotel
1405 Curtis Street
Denver, CO 80202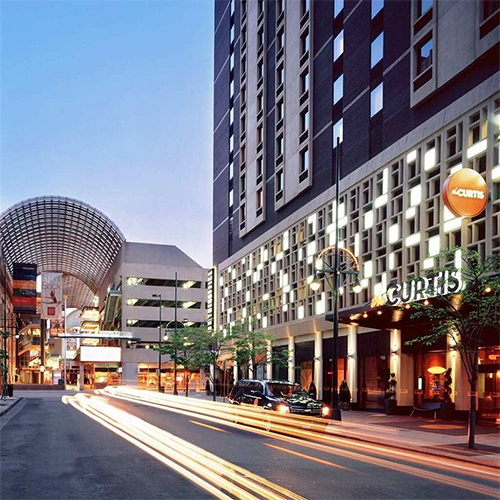 Contemporary design meets good old-fashioned fun at this unique hotel in downtown Denver. Discover a vast array of arts, entertainment, and sports venues near Curtis Denver – a DoubleTree by Hilton Hotel. Be welcomed with a warm chocolate chip cookie on arrival. Play a game of rock-paper-scissors, and then browse our Denver hotel's library. The Five & Dime store brims with treats from the past. Each guest floor is designed to reflect a pop theme from TV to music to art or sports and beyond.
We have reserved a block of rooms for the nights of Wednesday, September 21; Thursday, September 22; and Friday, September 23. The room rate is $172.00 per night; this rate is available for reservations made by Monday, August 29, or until the room block is full, whichever comes first. Please make your reservation here, or call (303) 571-0300/(800) 525-6651 and indicate that you are attending the 5th Annual Educating Tomorrow's Lawyers Conference.
Privacy Statement
The University of Denver maintains Privacy Guidelines at http://www.du.edu/privacy and endeavors to take reasonable precautions to maintain privacy and security within the sphere of its operations.
Questions
For more information or assistance with the logistics of this conference (hotel, travel, special needs, etc.), please contact Amy Downing, IAALS Special Events Coordinator, amy.downing@du.edu or 303-871-6649.
For questions or information about the agenda or program of the conference please contact Caitlin Anderson, Legal Assistant, Educating Tomorrow's Lawyers, caitlin.anderson@du.edu or 303-871-6624.