Honor a Lifetime in Service of Justice
Honor Rebecca Love Kourlis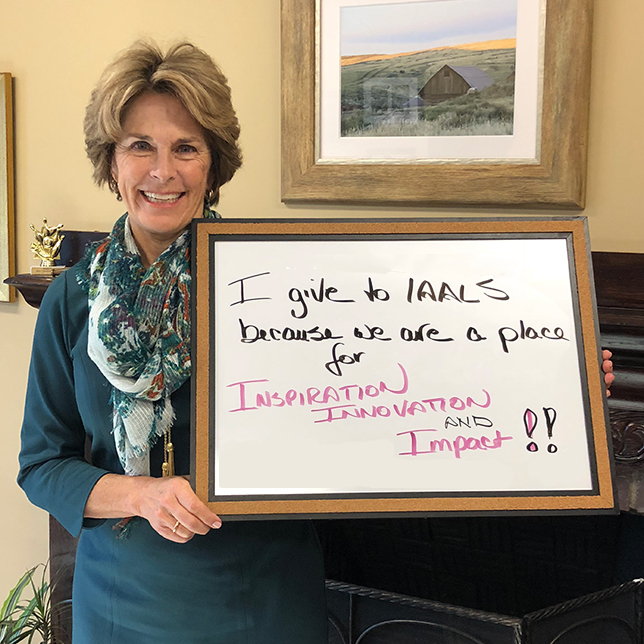 For Becky Kourlis, justice for all isn't simply a phrase we repeat as Americans. It is a calling to a higher principle of our democracy that must be preserved and protected. By giving to IAALS, you can help IAALS continue to work toward ensuring access to justice for all who need it and honor Becky's lifetime of service.
After completing a distinguished, 30-year career as a lawyer in private practice, a judge riding circuit in Northeastern Colorado, and finally a Colorado Supreme Court Justice, Becky opted to turn her dedication into a different kind of advocacy. More than 13 years ago, she helped to establish IAALS, which she has built into a driving force for positive, practical change in the civil justice system. Before she retires as Executive Director in September 2019, we look back on her amazing legacy.
Today, IAALS stands as a nationally recognized "think and do" tank, where diverse and divergent groups come together and reach consensus on solutions to some of the legal system's most complex and persistent problems—which IAALS can then implement. Under Becky's leadership, IAALS has:
Built consensus around the scope and sources of problems in our nation's civil justice system and built further support for reform among attorneys, judges, and courts.
Championed new state and federal civil case processes to increase efficiency and access, and seen them implemented across the nation.
Developed new tools to help courts, lawyers, and judges evolve to meet the needs and expectations of 21st Century court users.
Given real people who need and use our legal system a true voice in the reform process.
Pushed for more effective and meaningful judicial performance evaluation.
Spearheaded a national effort to identify the characteristics and competencies that lawyers need to succeed in the practice of law and worked with law schools to incorporate them into the curriculum so that graduates are better prepared to meet their clients' needs.
Championed the development of a better way for family courts to function, particularly around divorce, with a deeper focus on non-adversarial problem solving and the health of the family.
Your gift in Becky's honor can ensure that IAALS will continue to work for fair, impartial, and practical reforms and improvements within the legal system.
When you click below to make your gift online, please leave us a note in the comments section telling us why IAALS and Becky's work has been important to you, important to our legal system, and important to our country. And, let us know how to reach you should you wish to share a story or testimonial.

Questions? Contact Carol Miller, Director of Strategic Partnerships, at carol.miller@du.edu or 303-871-6613.