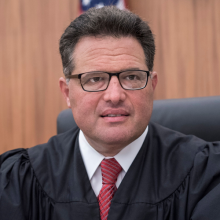 Associate Justice, Rhode Island Superior Court
Member, Post-Pandemic Civil Working Group, National Center for State Courts
Judge Brian P. Stern is an Associate Justice of the Rhode Island Superior Court and presides over the State Business Calendar. Governor Donald L. Carcieri nominated him for this position in August 2009.
Prior to his appointment, Judge Stern held various State Government positions, including Chief of Staff to the Governor from 2006 to 2009, Executive Director and Chief Legal Officer for the Department of Administration from 2002 to 2006, and Deputy Chief of Legal Services for the Department of Business Regulation from 1998 to 2002. Previously, he was in private practice in New York from 1991 to 1998. Judge Stern is a member of the Board of Directors of the Roger Williams University School of Law.
He received a BA from Clark University in 1988 and received a JD from Brooklyn Law School in 1991.