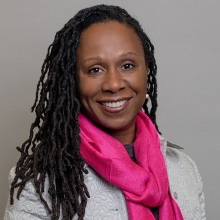 Camille Nelson is Dean and Professor of Law at the University of Hawai'i at Mānoa | William S. Richardson School of Law. She has long been an outstanding member of the law community and previously served as Dean of the American University Washington College of Law. Before that, she previously served as the Dean of Suffolk University's School of Law in Boston and was a Professor of Law at Hofstra Law School, where she taught courses in Comparative Criminal Law and Transnational Law. Dean Nelson was also a Dean's Scholar in Residence and visiting Professor of Law at the Washington University in St. Louis School of Law, where she taught courses in Contracts and Criminal Law.
Dean Nelson began her education at the University of Toronto, and then went on to the University of Ottawa Faculty of Law to receive her law degree. She then completed a Master of Laws from Columbia Law School in New York.
Dean Nelson has worked to augment discussions of equality and justice in academic areas of culture and race through publishing many revered, well-known articles in a variety of academic journals. These publications based in comparative and criminal law have appeared in a variety of publications such as the Journal of Politics and Law, the Berkeley Journal of Criminal Law, and the Yale Journal of Law & Feminism. These works, her academic positions, and a multitude of speeches have been recognized through a variety of awards and honors. At her time at Suffolk University Law School, Dean Nelson was awarded the Trailblazer award by the Black Law Students' Association "In honor of your unwavering commitment to create new paths, and to lead others through the legal profession," the Malcolm Donahue Award, and the law school's annual diversity award has been named "The Dean Camille A. Nelson Award" in honor of her work. In 2013, Dean Nelson was honored as one of the "Top Women of Law" by Lawyers Weekly, and was named to the Power 100 most influential Black attorneys by On Being a Black Lawyer from 2012–2015. She has also received the Ida B. Wells Award in 2011 by the Massachusetts Black Women Lawyers, and won a Faculty Excellence Award during her time at Washington University in St. Louis. Dean Nelson recently received the Paul Robeson Distinguished Alumni Award from the Black Law Students Association of Columbia Law School.
In addition to her academic writings and teaching, Dean Nelson has been involved with various professional organizations. She is currently a member of the Overseers' Committee to Visit the Harvard Law School, The Partnership (Next Generation Executive and C-Suite Program), Demography is Not Destiny Advisory Group of the Open Society Foundation, and the Association of American Law Schools' Nominating Committee. She also serves on the Advisory Board for Mina's List, an organization that "seeks to realize women's equal and substantive representation in national governments around the world." In September 2016, she was named to the Governing Council of the American Bar Association Center for Innovation, and in January 2017, she was elected to the Executive Committee of the Association of American Law Schools.
Dean Nelson has previously been appointed to the Senator Warren and Senator Markey Advisory Committee on Massachusetts Judicial Nominations (2013–2015), served as a Steering Committee Member of the AALS Deans Forum (2014–June 2015), and was a Boston Bar Association (BBA) Board Member (2012–2014).