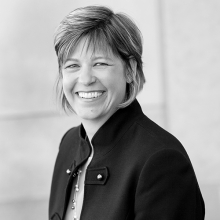 Former Director of Strategic Partnerships
From 2017-2020, Carol J. Miller was IAALS' Director of Strategic Partnerships, responsible for implementing the organizations strategic development plan, focusing on prospecting, cultivating, soliciting, and closing major and principal-level philanthropic gifts and grants for IAALS' fundraising campaigns. In collaboration with University Advancement at DU, Miller built relationships with partners, affinity groups, and the broader legal reform community.
Prior to joining IAALS, Miller served as Director of Leadership Gifts at Colorado Public Radio, was Donor Advisor at the Alzheimer's Association, and led the $30M Fast Forward Campaign at the National Multiple Sclerosis Society. In these positions, she built and implemented communications plans and managed robust pipelines of potential and current donors while expanding interest and engagement. As a collaborative, inclusive leader who builds strong partnerships among diverse stakeholders and cross-functional teams, Miller has created and executed strategic development programs and plans that achieve short- and long-range goals for major gifts, individual giving, and planned giving.
Miller believes deeply that meaningful philanthropy arises from organizational engagement, which strikes a chord that sparks an interest and raises more questions than answers. Taking a genuine interest in individual motivators, tapping into the core human motivation to connect, to solve problems, and help others, she is convinced: people want to give and be a part of something bold and visionary. A solution-focused journey is one Miller has taken time and again with generous philanthropists.
Committed to her profession, Miller also serves as a co-lead on the Association of Fundraising Professionals' Diversity and Inclusion Committee and is a member of the Colorado Planned Giving Roundtable. She has recently accepted her first term as a member of the Board of Seniors' Resource Center.
Miller earned her B.A. in Anthropology with a concentration in Philosophy from the College of William & Mary in Williamsburg, VA.