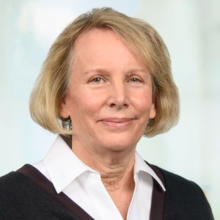 Chief Justice of the Connecticut Supreme Court Chase Rogers (Ret.), chair of the Day Pitney's Appellate Practice group, brings her vast knowledge and experience as a litigator, trial judge and Chief Justice to assist litigation clients in multiple areas of law. Clients benefit from her 20 years of experience presiding over bench and jury trials, and hearing, mediating and ruling on complex commercial disputes. She has also been a panel member on over 1000 appellate cases and the author of hundreds of decisions for the Connecticut Supreme Court. In addition, she has extensive experience in conducting investigations, including employment matters, discrimination, sexual assault and sexual harassment claims, police use of force, breach of contract and breach of fiduciary duty matters. She also has served as an expert witness regarding Connecticut law.
Chief Justice Rogers' career in the judiciary has spanned over two decades, starting when she was sworn in as a Connecticut Superior Court judge in January 1998. Her assignments included serving as a judge on the Complex Litigation Docket for four years in Stamford. In March 2006, Chief Justice Rogers was sworn in as an Appellate Court judge and a little over a year later, she was sworn in as Chief Justice of the Connecticut Supreme Court. Among her many accomplishments, she is credited with restructuring the civil justice system to reduce costs and embedding a culture of openness and transparency in the judicial branch.
Chase currently serves on the State Justice Institute's (SJI) Board of Directors, which she was appointed to by President Barack Obama in December 2010. She is also the chairperson of the national Civil Justice Implementation Steering Committee. She also currently serves on the board of the Center for Human Trafficking Court Solutions (CHTCS), and has provided consulting services to the Institute for the Advancement of the American Legal System (IAALS). In addition, she is an adjunct professor, teaching Connecticut civil procedure, at the University of Connecticut School of Law.
In 2012, Chase was appointed to the Federal-State Jurisdiction Committee of the Judicial Conference of the United States by U.S. Supreme Court Chief Justice John Roberts, where she served until January 2018. She also served as a member of the Board of Directors for the Conference of Chief Justices until January 2018.