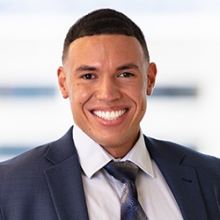 Law Student, University of Denver Sturm College of Law
Chris Martin is a 3L at the University of Denver Sturm College of Law focusing on corporate transactional law. Growing up in a biracial home just outside of Albuquerque, New Mexico, he was raised to understand the importance of his racial background and staying true to that identity.
He began his journey north along I-25, completing his undergraduate degree at Colorado College, where he earned his Bachelor of Arts in Economics with a business focus. He wrote his senior economics thesis on incarceration rate disparity between blacks, Hispanics, and Caucasians, and researched the contributing factors to that disparity. In addition to his degree in economics, he received a minor in Spanish. During his time at CC, he played four years of varsity basketball, starting at center and serving as a captain both his junior and senior year. While at CC, he also served as a leader in the Fellowship of Christian Athletes chapter, worked as a liaison between the men's basketball team and Operation TBI Freedom, and served as a mentor for incoming first year students.
Chris then continued his journey north to Denver for law school. As a law student, he served as the President of the Black Law Students Association for the 2019-20 academic year, currently serves as the 3L Representative for the 2020-21 academic year, is a student ambassador, leader in the Christian Legal Society, and has had the privilege of working at different corporate and firm placements during his first two and a half years. He plans to remain in Denver after graduation.