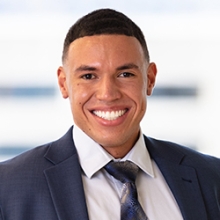 Chris Martin is an associate at Holland & Hart LLP. He is a part of the real estate, construction, finance and bankruptcy practice group and focuses on land use and zoning, renewable energy, and leasing.
Chris is a 2021 graduate of the University of Denver Sturm College of Law, a recipient of the Robert B. Yegge Memorial Scholarship, and the 2021 recipient of the Irving P. Andrews Outstanding Law Graduate Award. Growing up in a biracial home just outside of Albuquerque, New Mexico, he was raised to understand the importance of his background and staying true to that identity.
Chris completed his undergraduate degree at Colorado College, where he earned his Bachelor of Arts in Economics with a business focus. Chris wrote his senior economics thesis on incarceration rate disparity between Black, Hispanic, and Caucasian Americans, and researched the contributing factors to that disparity. In addition to his degree in economics, he received a minor in Spanish. During his time at Colorado College, he played four years of varsity basketball, starting at center and serving as a captain both his junior and senior year. While at Colorado College, he also served as a leader in the Fellowship of Christian Athletes chapter, worked as a liaison between the men's basketball team and Operation TBI Freedom, and served as a mentor for incoming first year students.
Following graduation, Chris attended the University of Denver Sturm College of Law, where he graduated in May of 2021. As a law student, he served as the president of the Black Law Students Association for the 2019–20 academic year, the 3L Representative for the 2020–21 academic year, a student ambassador, a leader in the Christian Legal Society, a peer mentor to 1L and 2L students, and had the privilege of working at different corporate, firm, and public placements during his three years at the Sturm College of Law. He also served, and continues to serve, as a member of the Professional Mentor Advisory Board at DU, which works with current and recently graduated law students to provide them with the opportunity to develop a professional relationship with a mentor according to their professional interests.
At Holland & Hart, he keeps his commitment to diversity and paying it forward at the core of his practice. He is a member of the Diversity & Inclusion Committee and is a passionate advocate for increased diversity and inclusion in the legal profession.