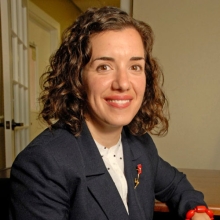 Professor Christine Cerniglia graduated from Loyola University New Orleans College of Law and pursued the civil law curriculum dedicated to the Louisiana Civil Code. In law school and in practice, she received training in a true apprentice-style work environment at the law firm of Sharp, Henry, Cerniglia, Colvin and Weaver, where she practiced maritime law in New Orleans, Louisiana. Most of the cases involved personal injury or wrongful death claims for Jones Act seamen or longshore harbor workers involved in deepwater drilling operations.
While she never anticipated leaving that practice, Hurricane Katrina pushed her to the Tampa Bay/St. Petersburg area, where she became a staff attorney at the Sixth Judicial Circuit. This change in career presented an opportunity to learn first-hand about mortgage foreclosure issues at a time when Florida was deeply impacted by the foreclosure crises. During her time at the Sixth Circuit, she became licensed in Florida and learned many aspects of civil Florida practice.
She began her teaching career as a visiting legal writing professor at Stetson University College of Law for three years before accepting a Director of Legal Writing position at Atlanta's John Marshall Law School. She returned to New Orleans in 2012 as Director of Skills and Experiential Education at Loyola College of Law to help transform Loyola's skills curriculum. She was responsible for Loyola's expansive skills and experiential opportunities and in 2013, the school was highlighted as the Most Innovative Law School by National Jurist and Pre-Law magazine based on Professor Cerniglia's designed practice tracks.
As Director of Clinical and Experiential Education at Stetson College of Law, she is excited to build upon the long history of clinical training at Florida's first law school. Stetson's unique externship program and dedicated field clinics offers a unique opportunity to showcase what we do best—train future lawyers to understand legal issues and concepts of justice to improve our legal systems.
Her scholarship is dedicated to legal education reform, client-centered lawyering, and the specific injustice of the underfunding of our third branch of government. Professor Cerniglia believes to "bloom where you are planted" and to take each day as an opportunity to connect to people and learn through experience.
She holds active licenses in both Florida and Louisiana.