Back to IAALS Staff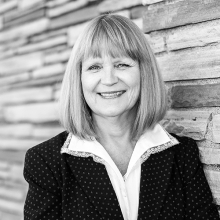 Cynthia Bowling is Executive Assistant to David Yellen. She joined IAALS in November 2014.
Before coming to IAALS, Bowling worked for the Financial Planning Standards Board as executive assistant to the CEO, and for MediaNews Group as executive assistant to the president and CEO. Her professional background includes law firm administration and marketing management at Rothgerber, Appel, Powers & Johnson (now Lewis Roca Rothgerber), PricewaterhouseCoopers, and Evolving Systems. Bowling has served as a volunteer judge for DBA Regional High School Mock Trial competitions, and as a volunteer staff assistant to the House Finance Committee of the Colorado General Assembly. She is a former professional jazz singer and USO alumnus.
Bowling earned her BS in Psychology from the University of Nebraska. She graduated summa cum laude from the University of Colorado at Denver with an MS in Social Sciences/Political Economy, and received an MA in Theology and Ethics from the Iliff School of Theology, graduating with honors.