Back to IAALS Staff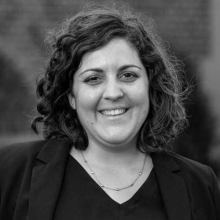 Director of Civil Justice and the Judiciary
Danielle Kalil is the Director of Civil Justice and the Judiciary at IAALS. In this role, Kalil is responsible for leading the vision and strategy of IAALS' work around civil justice reform and the judiciary, working towards a more accessible, fair, efficient, and accountable civil justice system.
Danielle joined IAALS in 2023 after five years teaching in the Human Trafficking Clinic + Lab at Michigan Law School. In that role, she supervised law students providing direct representation to clients in a variety of legal areas, including immigration, family law, public benefits, and post-adjudication criminal relief. She also supervised multidisciplinary teams of graduate students using design thinking to develop innovative, systemic solutions to vulnerability and exploitation. Throughout her career, Danielle has been a strong advocate for interdisciplinary collaboration and looking beyond traditional legal tools to solve problems in the legal system. 
Prior to teaching at Michigan Law, Danielle worked as a legal aid attorney in Texas, where she represented foster youth, immigrants, and survivors of human trafficking and sexual assault. In this role, she served as a member of Legal Aid for Survivors of Sexual Assault, representing survivors with civil legal needs arising from their victimization. She also worked with the Texas Foster Youth Justice Project, helping current and former foster youth address legal issues arising from their time in care. 
Danielle earned her JD from the University of Michigan Law School. Prior to law school, she worked in the nonprofit sector in Washington, D.C.
Blog Posts