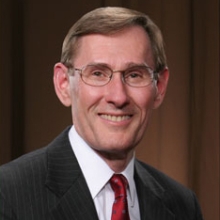 David Trickett served for just over six years as the President and CEO of the Iliff School of Theology in Denver, Colorado. There, he also was the Henry White Warren Professor of Ethics and Leadership. At Iliff, Trickett led a fundamental repositioning of the institution that included the development and deployment of an array of new products and services, historic successes in customer engagement, marketing communications to a wider public than ever before, historic cost containments, and the adoption of a strategic planning process that has changed the operational and planning life of the organization.
Prior to joining Iliff, he was chairperson of the board and senior fellow at the Center for World Religions, Diplomacy, and Conflict Resolution at George Mason University in the Washington, D.C. area. In the mid-1990s, Trickett founded The Jefferson Circle to address the absolutely crucial need to attain alignment of deep life-giving principles with strategic purpose and executable performance. He put The Jefferson Circle on pause while leading Iliff, but has elected to return to this work. He is based in Denver.
His service to the United Methodist Church includes membership on numerous groups from local to worldwide, including a recent appointment to the board of the National Association of Schools and Colleges of the UMC, a body of over 100 educational institutions. As an interfaith practitioner and student of leadership involved in global dialogues of different kinds, Trickett has worked to bring many different perspectives in various non-profit and for-profit arenas together on complex issues including Royal Dutch/Shell, Polaroid, the Indonesian National Commission on Human Rights, the Parliament of the Czech Republic, and the National Center for Family Philanthropy.

Trickett's teaching experience includes work at several theological schools, including Perkins School of Theology at SMU in Dallas; Washington Theological Consortium (which he also headed), and especially some of its constituent schools, such as Virginia Theological Seminary, Howard University School of Divinity, and the Catholic University of America. He has also been a guest speaker in various business schools, such as Kellogg, George Washington, SMU, USC, University of Colorado, as well as in various medical schools, such as Georgetown.
Trickett was formally educated first in physics, then the history of institutions and ideas, then theology and ethics, and finally management and strategy. He holds a Ph.D. in ethics from SMU in Dallas, has authored over one hundred articles, reports, chapters in books, and other writings. Trickett has had extensive preparation in various modes of guidance, counseling and coaching, especially (but not only) in connection with his ordination as clergy in The United Methodist Church.