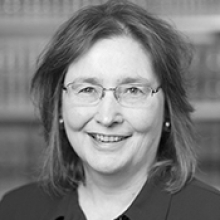 Professor of Law, The Ohio State University Moritz College of Law
Professor Deborah Jones Merritt is the John Deaver Drinko/Baker & Hostetler Chair in Law at The Ohio State University's Moritz College of Law. She has published on issues of equality, law and social science, legal education, and the legal profession; several of her works incorporate social science methods. In 2008, Merritt and her colleague Ric Simmons published an innovative "uncasebook" on Evidence. The book, now in its fourth edition, has been widely adopted and serves as a model for West Academic's Learning series. The Ohio State University has honored Merritt with university-wide awards for scholarship, teaching, service, and diversity enhancement; she has also received awards from the profession. In 2017, ABA President Hilarie Bass appointed Merritt to the ABA's Commission on the Future of Legal Education.
Merritt has taught both interdisciplinary and "doctrinal" courses at Ohio State, but she focuses her current teaching on clinical work. She is passionate about educating students to serve clients and improve access to justice.