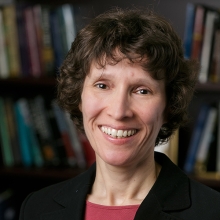 Director of State Affairs, Justice at Stake
Debra Erenberg joined Justice at Stake as the Director of State Affairs in August 2012. Debra came to JAS from Amnesty International USA (AIUSA), where she worked as Midwest Regional Director, serving as the lead staff person on human rights advocacy efforts in 13 states.

As Director of Affiliate Development for NARAL Pro-Choice America, Debra provided strategic support and training to the organization's 27 state affiliates and campus organizing efforts at more than 100 schools. In twenty years of advocacy, organizing, election campaigns, and nonprofit management, Debra has also worked with Rainforest Action Network, America Votes, Center for Science in the Public Interest, People for the Ethical Treatment of Animals, and others.

She holds a J.D. from George Washington University National Law Center, a Master's degree in Public Policy (M.P.P.) from the University of Michigan, and a Bachelor's degree in Political Science from the University of Michigan.