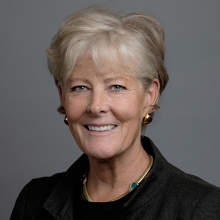 Diane G. Wallach is Director of MCT Incorporated, a private financial services company. Previously, she worked for Cody Resources Management LLC, Gates Rubber Company, Gould Deltec, and Citibank.
At the professional level, she serves on the boards of Gates Capital Management, Cody Overlook (ranching & real estate), Hat Creek Energy (domestic oil & gas), Gates Capital Partners (private equity funds), and Second Century LLC (public equity investments). Previously, she served as a director of Bear Creek Inc. (a private trust company).
Wallach's community service includes current board positions on the Gates Frontiers Fund; IAALS (University of Denver's Institute for the Advancement of the American Legal System); Cardigan Mountain School (Emerita); Gates Center for Regenerative Medicine; and Gates Bio-manufacturing Facility. Previously, Wallach served on the boards of Gates Family Foundation, Children's Hospital Colorado, Colorado Outward Bound School and Outward Bound USA, Denver Art Museum Foundation, and Colorado Zoological Trust.
Wallach earned both her bachelor's degree in human biology (1976) and master's degree in business administration (1983) from Stanford University, where she competed in intercollegiate field hockey, skiing, and lacrosse.
An enthusiastic cyclist, hiker, and kayaker, she enjoys adventure travel and is an avid puzzler. She and her husband, Marshall F. Wallach, live in Denver, Colorado, and have three grown sons.
Wallach is a former member of the IAALS Board of Advisors.