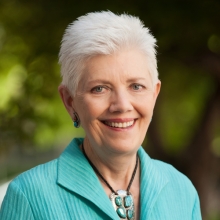 Gay Cook has spent her career in the private and nonprofit sectors, first as a journalist then in higher education administration and philanthropy.
As a journalist, she worked in Washington, D.C., Illinois, and Colorado. She was a reporter, editorial writer and member of the Editorial Board, Metropolitan Editor, Deputy Managing Editor and Managing Editor of The Denver Post and member of the paper's Executive Committee. Her reporting and editing has been honored at the local, state, and national levels with some of journalism's most prestigious awards.
Following her work at The Post, Ms. Cook served as Vice President of Executive Operations and Planning at Metropolitan State College of Denver (now Metropolitan State University of Denver) and as a member of the President's senior staff and Cabinet. She subsequently became the first Managing Director of the Center for Women's Health Research at the School of Medicine at the University of Colorado Denver's Anschutz Medical Campus, working with its School of Medicine founders and a group of women leaders to move it from a start-up to a nationally recognized enterprise focused on changing the future of women through research into the understudied issues in women's health.
Most recently, Ms. Cook was Vice President of Strategy and Philanthropic Relations and a Corporate Officer of The Colorado Trust, a philanthropic health equity foundation that is based in Denver and funds statewide and where she also served as a board director and officer of the Colorado Association of Funders.
Ms. Cook is Immediate Past President of the Denver Public Library Friends Foundation, a member of the Latino Community Foundation of Colorado's Board of Directors, and a member of the National Civic League's All-America City First Inaugural 2015 National Advisory Committee..
She is a Past President of the Washington, D.C.-based International Women's Forum, an organization of more than 5,000 women leaders in 33 countries throughout Africa, Asia, the Caribbean, Europe, Latin America, the Middle East, and North America. She is a past director of the IWF Leadership Foundation, whose Leadership Fellows Program educates and empowers the next generation of women leaders worldwide. Ms. Cook is a past president of the Women's Forum of Colorado. She was named a 2006 Woman of Distinction by the Girl Scouts of Colorado, was recognized as a "Who's Who Among Women in Business" by the Denver Business Journal, and has received other honors for her work in women's leadership.
Ms. Cook has a BS in News-Editorial from the College of Communications at the University of Illinois, and a MA in Journalism from the University of Colorado. She and her husband, Dr. Andrew F. Czopek, live in Denver.
Ms. Cook is a former member of the IAALS Board of Advisors.