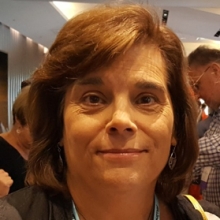 Janice Rosa served for nearly 20 years in the New York Judiciary, on both the Family Court and the Supreme Court trial courts. While on the bench she was the Supervising Judge of the Family Courts for the 8th Judicial District's eight counties (10 courthouses, 30 judges/bench officers) and was also the district's Supervising Judge for Matrimonial (divorce) matters. When on the Family Court bench, she was a judicial leader in systems improvement work for child welfare families under Buffalo, New York's Model Court project through the National Council of Juvenile and Family Court Judges (NCJFCJ). On the Supreme Court bench she helped implement the Integrated Domestic Violence Courts in the district, and the creation of the first Parent Coordinator guidelines and roster for the district. Justice Rosa was the first recipient of New York's Judicial Excellence Award as Distinguished Jurist, created in May 2012. For the past 25 years she has been a frequent trainer nationally on family and juvenile law matters, as well as judicial leadership, judicial wellbeing, domestic violence, and systems change.
Justice Rosa continues to provide consulting and training services to various groups, organizations, and state judiciaries. She provides consulting services as the national Judicial Coordinator for NCJFCJ's Family Court Enhancement Project (2015-), and was past consultant for NCJFCJ's Project ONE. She served for seven years on NCJFCJ's Board of Trustees, is past Curriculum Chair for that organization, and past chair and member of its Family Violence Advisory Committee. Judge Rosa also served as a National Center for State Courts (NCSC) consultant, and in that capacity provided services to Casey Family Program Partners Initiative Judicial Engagement project (2013-2014). Judge Rosa is a longtime member of NCJFCJ, as well as the Association of Family and Conciliation Courts (AFCC).
Justice Rosa has authored book chapters in the fields of family law (for ABA) and risk assessment (for NYS). Before taking the bench, Justice Rosa was an attorney with a long practice concentrating in family law, divorce, and child custody matters, a member of the American Academy of Matrimonial Lawyers (AAML), and named in Best Lawyers in America. Justice Rosa graduated from the University of Rochester (B.A.) and the State University of New York at Buffalo, School of Law (J.D.).