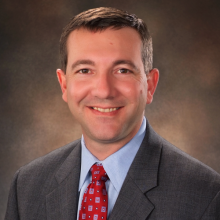 Jeff Hall was appointed Trial Court Administrator for the Deschutes County Circuit Court in July 2012. Hall leads all of the non-judicial staff of the Circuit Court, with responsibility for the Court's records, case related financials, jurors, and the Court's budget. The Deschutes County Circuit Court is a general jurisdiction trial court.
Following four years with the Maricopa Superior Court in Arizona to begin his career, Hall worked for the Washington State Administrative Office of the Courts (AOC) from 1991 to 1995. He served as Benton and Franklin Counties Superior Court Administrator from 1995 to 2002. Hall rejoined the Washington AOC in 2002 to serve in various capacities, including State Court Administrator from 2008 through 2012.
Hall is a graduate of Seattle University where he earned Bachelor degrees in Humanities and Criminal Justice. He received a Masters degree in Judicial Administration in 1988 from the University of Denver College of Law.