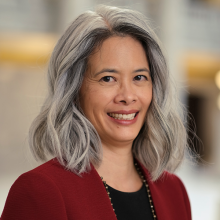 Since 2016, Jennifer MJ Yim has served as the executive director of the Utah Judicial Performance Evaluation Commission (JPEC), an independent state government commission that evaluates the performance of Utah judges for voters.
Yim has over 20 years of experience in a variety of roles in Utah's justice system including having been appointed as a member in the merit selection process of judges and magistrate judges at the state and federal court levels, a Youth Parole Authority member in the juvenile justice system, and as a founding commissioner on JPEC. She began her justice system career with the Utah Administrative Office of the Courts, as the lead staff for a task force examining racial and ethnic bias in the criminal and juvenile justice system.
Yim received a BA in sociology from Pomona College. From the University of Utah, she earned an MPA, a graduate certificate in ethics and public affairs, and a Ph.D. in political science, with emphases in public administration and political theory. Her dissertation received the Leonard D. White Award for the best dissertation in public administration by the American Political Science Association. Yim's current interests include the impact of bias and noise on group decision-making and conceptions of fairness in the justice system. She looks for ways to bring academic insights to the public sector.