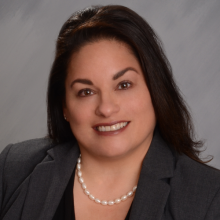 Joey Orduna Hastings returns to the National Council of Juvenile and Family Court Judges (NCJFCJ) as chief executive officer, having started her career at the Council in 2001 as a model court liaison and manager, positions she held during her tenure.
Orduna Hastings most recently held the position of assistant county manager of administration and finance for Washoe County, where she oversaw Technology Services, Human Resources, the Comptroller's Office, and the Registrar of Voters Office.

Orduna Hastings has a wide-ranging experience at the Second Judicial District Court, where she was the district court administrator and clerk of court, which included oversight of all court operations, programs, policy development, and fiscal responsibilities. She was integral in communicating with city, county, and state officials about various issues facing our region.
Orduna Hastings also served as the legislative coordinator for Governor Brian Sandoval in 2011. She worked with the Governor's staff to communicate and coordinate legislative matters and research. Orduna Hastings is a graduate of Gonzaga University School of Law and the University of Nevada, Reno. Orduna Hastings is a native Nevadan, born and raised in Las Vegas, and now resides in Reno, Nevada.