Back to IAALS Staff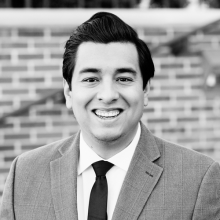 Jonathan Laurel is the Operations Specialist at IAALS. He is primarily responsible for managing and maintaining IAALS' database and supporting the organization's development and communications efforts. He joined IAALS in October 2020.
Laurel graduated from Texas Tech University with a BA in both English and Communications, and a minor Legal Studies. While at Texas Tech, he worked for the Office of Annual Giving and Institutional Advancement as a fundraising representative and managing supervisor. Prior to joining IAALS, Laurel worked for CASA of the South Plains as the Development and Events Manager, where he oversaw strategic development, event planning, corporate partnerships, and the donor database.
Laurel is currently pursuing his JD at the University of Denver Sturm College of Law.