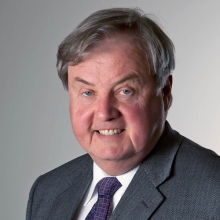 Judge, Hennepin County District Court, Minnesota
Kevin S. Burke is a District Judge in Hennepin County, Minnesota. The Hennepin County District Court has 62 judges and more than 700,000 cases filed per year. Judge Burke was elected for four terms as Chief Judge and three terms as Assistant Chief Judge. From 1991-1996 he served as the Chair of the Conference of Chief Judges. He chaired the State Board of Public Defense, and was a leader in the effort to improve and expand the state's public defender system.
In 1997, he received the Director's Community Leadership Award from the Federal Bureau of Investigation. In 2002, the National Center for State Courts awarded him the Distinguished Service Award. In 2003, he was selected as the William H. Rehnquist Award recipient by the National Center for State Courts. The Rehnquist Award is presented annually to a state judge who exemplifies the highest level of judicial excellence, integrity, fairness and professional ethics. He was awarded Public Official of the Year by Governing Magazine in 2004. In 2005, the Minnesota chapter of the American Board of Trial Advocates named him trial judge of the year. He is currently the President of the American Judges Association.
He has been a speaker in many states as well as Abu Dhabi, Canada, Egypt, Mexico, China, India and Ireland, regarding improvement in judicial administration.
He served on IAALS' Board of Advisors until 2016.