Back to IAALS Staff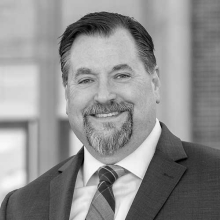 Senior Director of Operations
Kirk Jones serves as IAALS' Senior Director of Operations. In this role, he reports to the Chief Executive Officer and is a member of IAALS' Senior Leadership Team. He leads the administrative and operational functions of the organization so as to achieve its mission. His duties include contributing to planning the strategic and day-to-day leadership of IAALS and its operations, and collaborating with other Senior Leadership Team members to sustain the agenda for IAALS' programmatic work. His portfolio includes cultivating and participating in development opportunities, fiscal stewardship, marketing and communications, managing and developing operations staff, and office-wide operational leadership to support IAALS' objectives.
Jones comes to IAALS after successfully leading in a similar role at the University of Denver's College of Arts Humanities and Social Sciences as their Associate Dean and Chief Operating Officer for several years. Before joining the university in 2017, he enjoyed a successful career in enterprise operations and planning roles in national laboratories, natural resources corporations, venture capital, and engineering firms. Jones is also a decorated veteran of the US Army, where he served as an intelligence analyst.
Jones graduated from the New Mexico Institute of Mining and Technology with a BS in Chemistry and an MS in Hydrology. He was chosen as the Willis Scholar and the Macey Scholar for academic achievement and research during his studies. He later completed his MBA at Regis University in Finance, Accounting, and Strategic Management, where he was named a scholar in the Alpha Sigma Nu society. He also earned an MA in Professional Creative Writing from the University of Denver. Jones has several publications in the environmental science and literary spaces.