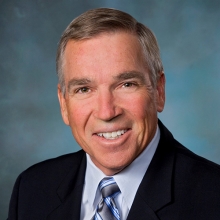 Mark Nadeau is an advocate involved in complex commercial cases throughout the United States and has represented clients in many high-profile disputes. He is the DLA Piper National Co-Chair for Business and Commercial Litigation.
Amongst the cases is significant industry focused work involving television, aviation, real estate hospitality, energy, trade secret, and unfair business practice matters. His work in the energy sector has involved disputes concerning off-shore platform construction and insurance issues, nuclear plant and rod exchange programs, pipeline line siting and failures, drilling and extraction issues, as well as take or pay litigation. He has served as lead counsel in high-profile satellite television multibillion-dollar disputes involving retransmission and antitrust issues. On behalf of several aviation and launch-system clients, he has worked on issues involving rocket technology, joint venture disputes, cockpit avionics, license and patent claims, airworthiness, airframe, and engine performance financing. With an extensive background in all types of real estate disputes, Mark has acted as lead counsel on several multi-party construction and hospitality cases involving the acquisition, development, financing, operation, and management of hotels, resorts, spas, and golf courses. He has defended many class action suits.
Beyond a very active litigation practice in the United States, his international arbitration practice spans Europe, Asia, and South America. Mark is widely recognized as a leading commentator and has chaired numerous symposia on international dispute resolution. At DLA Piper, Mark is the founding partner of the Phoenix office, where he now acts as the co-managing partner and chair of the office's litigation department. He is also a former member of DLA Piper's Policy Committee.
Mark is a former member of the IAALS Board of Advisors.
Blog Posts