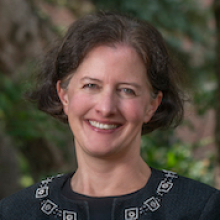 Mary Clark serves as the Provost of the University of Denver. Prior to coming to DU, Mary worked at American University in Washington, D.C., where she started as a law professor and most recently served as deputy provost and dean of faculty, and Mary previously served as dean of academic affairs and senior vice provost for four years before serving as interim provost from July 2018–January 2019.
Mary has deep knowledge of governance issues, informed, in part, by her position as a tenured faculty member at American University's Washington College of Law, and through numerous administrative appointments there. The Sturm College of Law faculty has extended an appointment to Mary as a tenured full professor of law. In addition to her tenured appointment at American University, Mary also brings teaching experience from both Yale Law School and Georgetown University Law Center.
She has served as a member of the board of Bryn Mawr College for the last nine years, and she also has worked closely on philanthropic efforts to support academic and co-curricular experiences. Her external service also includes serving as a visiting team member for the Middle States Commission on Higher Education, as president of the Washington Council of Lawyers and as a member of the Legal Ethics Committee of the D.C. Bar.
Throughout her career, Mary has been actively involved in community service including as a member of the Council on Diversity and Equity, Washington Latin Public Charter School as well as the Middle States Reaccreditation Self-Study Team for Schools Without Walls, a magnet public high school in Washington D.C.
Mary earned a JD from Harvard Law School and graduated magna cum laude from Bryn Mawr College.