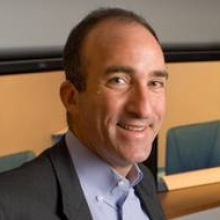 Paul Lippe is CEO of OnRamp Systems, the leader in legal department productivity platforms to improve quality and efficiency and reduce costs of legal work. Legal OnRamp was first developed at a legal department productivity and collaboration platform for Cisco Systems, and is the first Web 2.0 system to integrate secure, private departmental platforms with a broader "walled garden" public community.   
From 1992-1999, Paul Lippe was an executive at Synopsys, an electronic design automation company. During that time Synopsys grew from $63MM to $800MM in revenue. Paul was at various times Senior Vice President, General Counsel, and ran Business Development and Corporate Marketing.   
After leaving Synopsys, Paul became CEO of Stanford SKOLAR, a medical digital library and e-learning company sponsored by Stanford Medical School. SKOLAR was recognized as a leader in self-directed learning, with the first approved in-context learning system.    
Paul is a graduate of Yale College and Harvard Law School. He is married to Nancy White Lippe and they have 4 children. When not on the Ramp, Paul splits his time between Concord MA, Moffett Field, CA, Blue River, CO, the Acela and Virgin America.