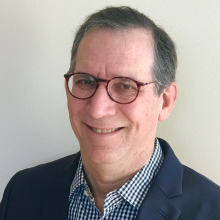 Peter Salem, M.A., is executive director of the Association of Family of Conciliation Courts (AFCC) an interdisciplinary and international association of more than 5,000 members worldwide. He served as AFCC associate director from 1994-2002. He was a Distinguished Fellow of the William T. Grant Foundation (2009-2012), working with the Arizona State University Prevention Research Center to better integrate research into practice and policy in family law and dispute resolution. He has served as an adjunct professor of law at Marquette University (1998-2008) and director and mediator for Mediation and Family Court Services in Rock County, Wisconsin (1989-1994).
Salem is co-editor of Divorce Mediation: Models Techniques and Applications (Guilford, 2004), author of numerous journal articles, and he has written and produced several training and educational videotapes. His work has been recognized with awards including the John M. Haynes Distinguished Mediator Award (Association of Conflict Resolution) the Association of Family and Conciliation Courts President's Award the Wisconsin Association of Mediators Distinguished Service Award and an Award of Excellence (team award) for AFCC's Domestic Violence and Family Courts Project.
Salem's recent work has focused on organizational collaborations to improve family law and dispute resolution processes and systems addressing controversial issues including shared parenting and young children, differentiation and intimate partner violence, family law education reform, and differentiated case management in family courts.
Salem has a bachelor's degree in political science from McGill University and a master's in media and communication management from Emerson College.
Publications