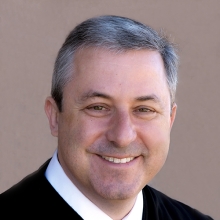 Randall H. Warner was appointed Judge of the Superior Court of Arizona in August 2007. He is currently assigned to juvenile court, and previously served on family court, criminal court, and civil court assignments. From June 2015 through June 2018, Judge Warner was the Maricopa County Civil Presiding Judge, where he oversaw the court's 22-judge civil division while managing a calendar of complex and other civil cases. Judge Warner was a member of the working group on dispositive motion reform that developed the recommendations in IAALS's Efficiency in Motion report.
Before joining the bench, Judge Warner was a partner at Jones, Skelton & Hochuli, LLC where he had an appellate and commercial litigation practice. At the start of his career, he clerked for Arizona Supreme Court Justice Thomas A. Zlaket. 
Judge Warner teaches and writes on civil practice issues, effective advocacy, and civil case management. His legal publications include All Mixed Up About Contract Interpretation: When Is Contract Interpretation A Legal Question And When Is It A Fact Question?, 5 Va. L. & Bus. Rev. 81 (2010), All Mixed Up About Mixed Questions, 7 J. App. Prac. & Process 101 (2005), and Parenting from the Bench, Ariz. Att'y (July 2010). He currently writes a civil practice pointers column for the Arizona Attorney magazine.
Blog Posts