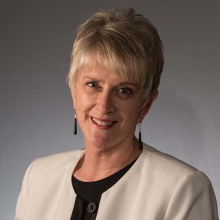 Chief Justice Ruth V. McGregor (Ret.) served on the Arizona Supreme Court from February 1998 until June 30, 2009. She was the Court's Chief Justice from June 2005 until her retirement. She was also a member of the Arizona Court of Appeals from 1989 until 1998, where she served as Chief Judge from 1995 to 1997. Before her appointment to the bench, Justice McGregor engaged in the private practice of law as a member of the Fennemore Craig law firm in Phoenix, Arizona. She served as law clerk to Justice Sandra Day O'Connor during Justice O'Connor's first term on the United States Supreme Court.
Justice McGregor received a Bachelor of Arts degree, summa cum laude, and a Master of Arts degree from the University of Iowa. She received her Doctor of Jurisprudence degree, summa cum laude, from Arizona State University in Tempe, Arizona, and a Master of Laws in the Judicial Process from the University of Virginia. Justice McGregor has participated extensively in professional activities, particularly those involving legal education and the discipline of lawyers and judges, and in organizations dedicated to assuring a fair and impartial judiciary. Among other activities, she has served as an officer and a member of the Board of Trustees for the American Inns of Court Foundation, as an officer and Board member for the National Association of Women Judges, as a board member of the Conference of Chief Justices, and on the Legal Council of the American Bar Association Section of Legal Education and Admission to the Bar, which is the accrediting body for American law schools.
Justice McGregor currently serves as a member of the Board of Directors of the Center for the Future of Arizona and of Justice at Stake; as section delegate for the ABA Section of Legal Education and Admission to the Bar; and as chairperson of the O'Connor Advisory Committee at IAALS.