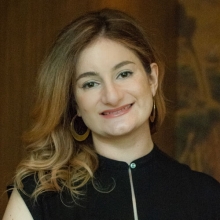 Director, Access to Justice Research, World Justice Project
Sarah Chamness Long is the Director for Access to Justice Research at the World Justice Project (WJP), where she leads the WJP's thematic research on civil justice, the UN Sustainable Development Goals, and environmental governance. Ms. Long has also managed the production of the WJP Rule of Law Index and the administration of the WJP's General Population Poll in 126 countries, as well as special data collection efforts in Pakistan and Romania. In addition to her work on the WJP's research team, Ms. Long had previously managed a portfolio of 20+ pilot rule of law programs incubated and supported through the WJP's World Justice Challenge competitions, and conducted monitoring and evaluation for 90 WJP seed grants in 60 countries.
Prior to joining the WJP, Ms. Long held a number of program management and research roles with The SEEP Network, The Aspen Institute's Justice and Society Program, and the Center for International Development and Conflict Management (CIDCM). Ms. Long holds an MSc. in Global Politics from the London School of Economics and Political Science and a B.A. in French Language and Literatures from the University of Maryland.