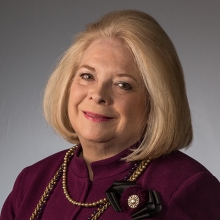 Partner, Duane Morris LLP
Sheila Slocum Hollis is chair of the Washington, D.C. office of Duane Morris LLP. She just completed 12 years of service on the firm's Executive Committee and Partners' Board. She was the founding managing partner of the firm's Washington office and its Energy, Environment, and Resources Practice. Hollis specializes in domestic and international energy and environmental matters, representing governmental bodies and the energy industry. She represents corporations, governmental entities, and a variety of other clients in many of the major issues and challenges in energy law and policy. She is recognized by Chambers Guide (2008-present) and is AV® Preeminent™ 5.0 out of 5 rated by Martindale-Hubbell.
Hollis was the first Director of the Office of Enforcement of the Federal Energy Regulatory Commission, establishing the office and its policies and procedures, serving from 1977 to 1980 and was a trial lawyer at the Federal Power Commission from 1974 to 1975. Recognized by the National Law Journal as one of the nation's top energy lawyers, and by various organizations for her expertise in oil, gas, and electric law issues, Hollis was the first woman to serve as President of the Energy Bar, and was Chair of the American Bar Association's Section of Environment, Energy, and Resources. She now serves as the Section's representative in the ABA House of Delegates and is a member of the Council of the ABA's Section of Public Utilities, Communication, and Transportation. She served as a Professorial Lecturer in Law at the George Washington University Law School for 20 years, teaching over 600 law students Energy Law. Hollis is also a former member of the IAALS Board of Advisors. Recent honors and recognitions accorded to Hollis over the course of her career include:
Named one of 50 Top Women Attorneys in Washington, DC in 2014 and 2015.
Received the Lifetime Achievement Award from Platts Global Energy in 2011.
Named "Woman of the Year" by the Women's Council on Energy and the Environment in 2003 and former President of the Council.
Delivered the "Dean of the Oil and Gas Bar" Lecture in 2009 at the Institute for Energy Law at the Center for American and International Law.
Paul Nordstrom Award in 2010 for contributions to the field of Energy Law and the Community from the Energy Bar Association and the Charitable Foundation of the Energy Bar – 2010.
Cheryl Bryson Leadership Award of Duane Morris Women's Initiative – 2012.
Received the Outstanding International Alumni Award and delivered the Nanda Lecture at the University of Denver Sturm College of Law in 2012.
Elected as a Fellow of the American College of Environmental Lawyers in 2012.
Fellow of the American Bar and a member of the American Law Institute.
International Honorary member of the Commercial Bar of England and Wales.
Chambers listed 2008 – present.
Fellow American Bar 1992 – present.
Member American Law Institute – 1991 – present.