Back to IAALS Staff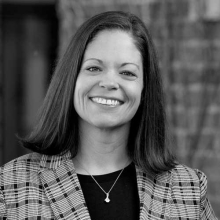 Budget and Operations Manager
Theresa Gomez serves as IAALS' Budget and Operations Manager. In this role, she reports directly to the Associate Executive Director and is responsible for the day-to-day office, financial, and human resource operations. Gomez also works closely with the Senior Director of Strategic Partnerships and the Initiative Directors as projects are planned and implemented. Additionally, she serves as liaison to the University of Denver for financial and human resource matters.
Gomez came to IAALS in September 2012 following a thirteen-year career as a legal secretary for multiple partners specializing in commercial and estate planning law. During this time, she also served as executive assistant to Karen Mathis during her tenure as ABA Chair of the House of Delegates and ABA President.
Gomez graduated from Colorado State University, receiving a bachelor's degree cum laude with honors, with a concentration in Social Sciences and a certificate in Gerontology. While attending Colorado State University, she studied abroad at Leicester University in England.