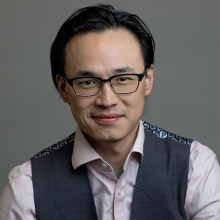 Tony Lai is a Silicon Valley-based lawyer, entrepreneur, and evangelist for participatory governance and technology systems that support access, openness, innovation, engagement, and sharing.
Tony is a former member of the IAALS Board of Advisors.
As the CEO and cofounder of Legal.io, Tony leads teams of lawyers, engineers, and designers in developing technology and partnerships to democratize legal empowerment and help lawyers build future-ready practices. Legal.io works with law firms, legal profession regulators like The Florida Bar, and legal service non-profits like California Lawyers for the Arts to support their members in building practices that take advantage of the latest developments in legal service innovation and A.I.-assisted referral management infrastructure.
Tony studied design thinking at Stanford's d.school; helped design, research, and teach the first legal technology course at Stanford Law School; and was on the founding team at StartX, a non-profit organization supporting the development of Stanford's top entrepreneurs through experiential education.
As an Entrepreneurial Fellow at the Stanford Center for Legal Informatics (CodeX), Tony has been helping to develop a diverse community of researchers, practitioners, entrepreneurs, and technologists working side-by-side to advance the frontier of legal technology. CodeX's emphasis is on the research and development of computational law—the branch of legal informatics concerned with the automation and mechanization of legal analysis. In 2017, Tony founded the CodeX Stanford Blockchain Group to focus on applied research in blockchain technologies and their intersection with existing legal frameworks, smart contracts and governance design, and legal access use cases for blockchain technologies. This research will be published to help inform lawyers, technologists, and policy-makers as part of the Stanford Journal of Blockchain Law and Policy, established by the Blockchain Group in June 2018.
Prior to his work at Stanford, Tony gained 10,000 hours' experience as a lawyer based in London and Hong Kong, advising companies, public sector bodies, and charities on commercial, corporate, and regulatory matters for the technology, communications, and media industries in Europe, Asia, and Africa.
Tony serves on the American Bar Association's Standing Committee on the Delivery of Legal Services; on the board of Shareable, the award-winning nonprofit news, action, and connection hub for the sharing transformation; as a Co-organizer for the San Francisco chapter of Legal Hackers, a global movement of lawyers, policymakers, designers, technologists, and academics who explore and develop creative solutions to some of the most pressing issues at the intersection of law and technology; and as a Steward at the Embassy Network, an intentional non-profit co-living and urban-commons governance experiment with locations around the world.
Tony was born and brought up in England with an Asian heritage, and for the last seven years has found home amongst a community of thinker-doers at Embassy Network locations in San Francisco, California. He holds Bachelors and Masters Degrees in Modern History from Oxford University, and graduated from Stanford University with a Masters in Law, Science, and Technology.