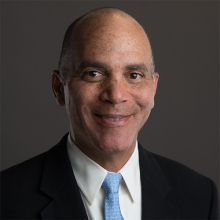 Chief Justice Wallace B. Jefferson (Ret.) served on the Texas Supreme Court from March 2001 until October 2013. He served as Chief Justice from September 2004 until his resignation. Jefferson made Texas judicial history as the first African-American justice and the first African-American Chief Justice of the Texas Supreme Court. Upon resigning from the Court, Jefferson joined Alexander Dubose Jefferson & Townsend LLP, an internationally recognized appellate boutique law firm, as a named partner.
Jefferson was appointed to the Court in 2001 by Gov. Rick Perry, succeeding former Chief Justice Thomas R. Phillips as the 26th Chief Justice of Texas. He was subsequently elected to the bench in 2002. His appointment as Chief Justice was confirmed unanimously by the Texas Senate on March 9, 2005. He was elected Chief justice in 2006 and reelected to a full term in 2008.
During his time on the bench, Jefferson served as president of the Conference of Chief Justices, an association of chief justices from the 50 states and U.S. territories.
Jefferson joined the Court from private practice in San Antonio. As a partner in the appellate specialty firm Crofts, Callaway & Jefferson, he successfully argued two cases before the United States Supreme Court. He is a graduate of the James Madison College at Michigan State University and the University of Texas School of Law.