2014 Governor Races to Impact State Courts
September 24, 2014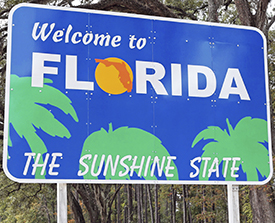 The outcome of governors' races in at least two states—Florida and Kansas—will have meaningful implications for those states' courts.
Florida's next governor could have the opportunity to fill four of seven seats on the supreme court, with four justices reaching the mandatory retirement age of 70 during his tenure. One justice will retire in January 2017, and the other three will leave the court at the same time as the governor elected in November, in January 2019. If 60 percent of voters approve Amendment 3 on the November ballot, the governor who takes office in 2015 will fill those three vacancies. If the amendment fails, the outgoing and incoming governors may make joint appointments, as Governors Lawton Chiles and Jeb Bush did in 1999 in naming Justice Peggy Quince to the supreme court.
Some depict Amendment 3 as an effort to allow Republican Governor Rick Scott to stack the court. A previous effort to give Governor Scott greater authority over the high court stalled in the legislature in 2011. That was a proposed constitutional amendment that would have split the supreme court into civil and criminal courts of five justices each, with Scott appointing three new justices to the civil court.
Governor Scott's opponent in November is former governor Charlie Crist.
In Kansas, the governor's race is between Republican incumbent Sam Brownback and Democratic challenger and House Minority Leader Paul Davis. A fundamental area of disagreement between Brownback and Davis involves how state supreme court justices should be chosen.
As governor, Brownback supported legislation that in 2013 eliminated the role of the judicial nominating commission in screening and recommending candidates for the state's court of appeals and added senate confirmation. The Republican-controlled legislature also sought to amend the constitution to establish a similar process for selecting supreme court justices—gubernatorial appointment with senate approval and periodic retention elections. (Kansas justices are currently chosen through a commission-based appointment process.) Brownback has also been at odds with the high court over school funding and approved the legislature's removal earlier this year of some of the court's administrative authority.
Davis described the effort to alter the selection process for the state's appellate justices as an "attempt to hijack an independent process in favor of a political one." He also recently criticized Brownback's appointment of his former legal counsel to a supreme court vacancy, charging him with putting "his own political agenda before the best interests of Kansans."