5th Annual #ETLConference Focuses on Learning Outcomes for Hire
It's September which means at IAALS, it's time for our 5th Annual Educating Tomorrow's Lawyers Conference.
This year's Conference comes fresh off the heels of ETL's groundbreaking report, Foundations for Practice: The Whole Lawyer and the Character Quotient, which revealed the keys to career success. First lawyers must have a high "character quotient." Integrity, work ethic, grit, and common sense are just a few of the necessary characteristics. And while character reigns, being a successful lawyer actually requires a blend of character quotient with professional competencies and legal skills.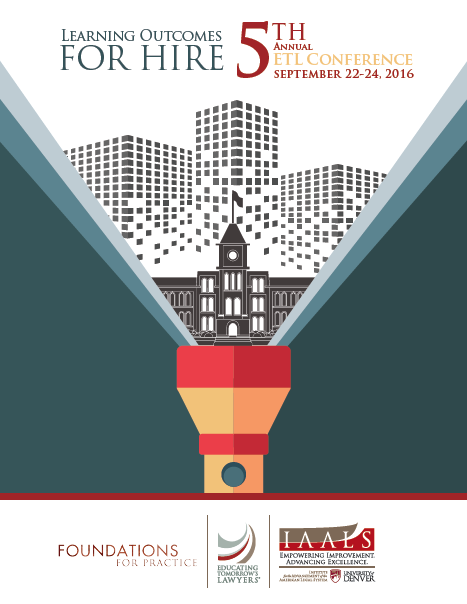 Using the report to set the stage, nearly 100 legal educators, law school administrators, and practitioners will unite September 22nd – 24th for a highly-dynamic event that will include how to create meaningful learning outcomes, how to measure whether those outcomes are being met, and how to turn those outcomes into tangible hiring criteria for legal employers.
However, perhaps the highlight of the #ETLConference will come on Thursday night when Chief Justice Nancy E. Rice of the Colorado Supreme Court presents former Dean of the University of Denver Sturm College of Law, Martin J. Katz with the 2016 Educating Tomorrow's Lawyers Award. Dean Katz is also a founding ETL board member and serves as a member of IAALS' Board of Advisors. This is only the second time the award has been given and as ETL Director Alli Gerkman explains,
"Marty was a driving force in getting Educating Tomorrow's Lawyers off the ground. He brings leadership, experience and a deep commitment to collaboration to the field of legal education. In addition, Marty's been willing to take risks as a legal educator and those risks have paid off in a big way for students and for the legal community they enter as lawyers."
Updates concerning speakers, break-out sessions, and more taking place will be posted throughout the day with live Tweets and Facebook posts. If you can't be in Denver, you can stay up to date on all the conference happenings by following @ETLInitiative using #ETLConference or on our Facebook page.