ABA Task Force Releases Draft Report on Future of Legal Education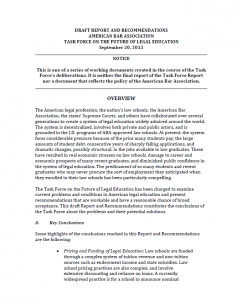 The ABA Task Force on the Future of Legal Education has released its draft report, which highlights proposals and conclusions related to changes in the pricing of legal education, liberalizing or eliminating certain accreditation standards, speeding the pace of innovation and practical-skills training at law schools, and using non-lawyers to achieve broader delivery of law-related services.
"While the Task Force is not finished with its work, this draft report represents our effort thus far to formulate solid proposals to ensure that legal education in the United States remains viable in light of substantial economic and structural changes," said Task Force Chair Randall T. Shepard, former chief justice of the Indiana Supreme Court.
Chair Randall T. Shepard will present the Task Force's proposals to more than 80 legal educators at the 2nd Annual Educating Tomorrow's Lawyers Conference in Denver on October 4.
"Thanks to the Task Force's work, the legal community will be able to have a full, engaged discussion with all stakeholders concerning the future of legal education. This is a topic that is critical to our profession and essential to the delivery of legal services in the United States," said ABA President James R. Silkenat.
Key highlights from the report focus on:
Pricing and Funding of Legal Education
Accreditation
Innovation
Skills and Competencies
Broader Delivery of Law-Related Services
The Task Force is seeking additional public comments and will present a final draft to the ABA House of Delegates.
Read full report.