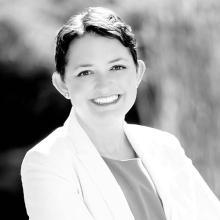 Alli Gerkman was a Senior Director at IAALS, overseeing its programmatic objectives and strategy, with expertise in legal education, the legal profession, and delivery of legal services. 
Under her leadership, IAALS launched Foundations for Practice to identify the foundations new lawyers need for success; to develop models of legal education that support those foundations; and to advance a culture of legal hiring that results in a better fit for the employee, the employer, and the client. More than 24,000 lawyers across every type of practice setting participated in IAALS' national survey, the outcomes of which are driving the development of learning outcomes in law schools, facilitating the creation of improved hiring rubrics in legal organizations that hire entry-level lawyers, and renewing conversations about what minimum competence should be for entry to the legal profession. 
Gerkman served on a number of Colorado Supreme Court committees focused on improving the profession's ability to serve consumers, and served, at the invitation of Chief Justice Nancy Rice, as chair of the New Lawyer Working Group for the Colorado Chief Justice's Commission on Professional Development. She was also a member of the Colorado Women's Bar Association Board and the National Advisory Council for Law School Transparency. 
Gerkman was honored with the Colorado Women's Bar Association Foundation's Raising the Bar award, which was granted in 2017 to "Women Lawyers Who Raise the Bar Through System Reform or Innovation." She was also selected as a 40 Under 40 by the Denver Business Journal in 2018. In 2011, she developed an online resource for the Colorado Bar Association CLE that received the Association of Continuing Legal Education's 2011 Award of Professional Excellence for use of technology in education. She is a fellow of the American and Colorado Bar Foundations and a member of the Colorado Women's Bar Foundation Circle of Minerva.