Action on the Ground: IAALS Offers New Tool for Tracking Rules Projects Around the Country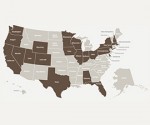 IAALS has played an important role in empowering jurisdictions to experiment with pilot projects and rules changes. Today, we are making information about these programs more accessible to all by launching Action on the Ground, an interactive map that gives users rich information about programs around the country—at a glance.
In 2007, IAALS and the American College of Trial Lawyers Task Force on Discovery and Justice formed a partnership to study solutions to address costs and delay in America's civil justice system. Following a survey of the Fellows of the American College of Trial Lawyers and a great deal of additional empirical research, IAALS and the Task Force published a Final Report. One of the major themes to emerge from this work was that, "[a]lthough the civil justice system is not broken, it is in serious need of repair. In many jurisdictions, today's system takes too long and costs too much." Survey respondents indicated that much of this cost and delay stems from discovery, and particularly electronic discovery, but they also noted that the causes are much broader. The Final Report proposed a set of 29 Principles that suggest changes to the civil justice system so as to achieve the goals of Rule One of the Federal Rules of Civil Procedure: "to secure a just, speedy, and inexpensive determination of every action." IAALS and the Task Force intended that the Principles be tested in pilot projects in courts around the country and jointly developed a series of Pilot Project Rules for this purpose.
Today, numerous pilot projects are in various stages of consideration and implementation around the country. In a few states, such as New Hampshire and Massachusetts, the pilot projects have run their course and evaluation is underway. In other jurisdictions, Task Force recommendations are in the process of being implemented, as in Minnesota and Iowa. At the federal level, projects include focus on specific case types such as the Employment Protocols and the Model Order for E-Discovery in Patent Cases, e-discovery in the Seventh Circuit, and complex cases in the Southern District of New York. While there are common themes among the pilot projects, including achieving proportionality in the civil justice process, the projects are unique in their proposed solutions and design.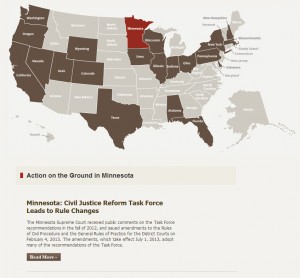 In one interactive map, Action on the Ground uses visual representation to give users unprecedented access to information on the wide variety of projects in place around the country: shaded states indicate those in which there is activity, including both federal and state projects, and clicking a state will reveal details of that jurisdiction and relevant projects therein.
Much has happened since 2007. We invite you to come see. And if your state is not represented on the map, perhaps you should spearhead an effort for reform!