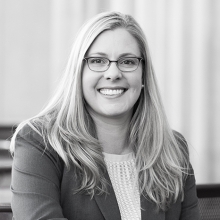 Brittany Kauffman is a Senior Director, overseeing IAALS' programmatic objectives and strategy with expertise in civil justice reform at the state and federal levels.
Kauffman has worked with state and federal courts, rules committees, civil justice task forces, and bar organizations around the country, serving as a facilitator, expert liaison, and consultant on civil justice reform efforts. She provides legal and empirical research and analysis to assist in the development of recommendations, as well as support for implementation—all toward the goal of making our civil justice system accessible, efficient, and relevant to the people whom it serves. Examples include Kauffman's work with the Conference of Chief Justice's Civil Justice Improvements Committee, which developed a set of 13 recommendations for transforming civil justice in our state courts, and the American College of Trial Lawyer's Task Force on Discovery and Civil Justice.
Kauffman joined IAALS in the spring of 2012 after having practiced with Arnold & Porter, LLP, where she worked in appellate, environmental, natural resources, and Indian law. She was honored in 2009 as a nominee for the Colorado Lawyers Committee Individual of the Year Award for her pro bono efforts. Prior to her work at Arnold & Porter, she served as a law clerk for the Honorable Judge Paul J. Kelly, Jr., of the United States Court of Appeals for the Tenth Circuit.
Kauffman received her JD from the University of Colorado School of Law, where she was a member of Order of the Coif and a Breitenstein Scholar. Kauffman obtained her undergraduate degree from Colorado College, where she graduated cum laude with a BA in Chemistry and a minor in Environmental Studies and was a Boettcher Scholar.
Additional Info
Memberships & Affiliations
Member and Expert Advisor, 7th Circuit Council on eDiscovery and Digital Information (formerly 7th Circuit Electronic Discovery Pilot Program Committee)

Co-Chair of the State Court Initiatives Project Team
Member, Updated Principles Project Team

Member, Faculty of Federal Advocates
Member, American Bar Association
Member, Colorado Bar Association
Member, Colorado Women's Bar Association
Recent Speaking Engagements
Panelist, National Association for Court Management, Mind the Gap: The Power of Active Engagement, July 2018: "Redefining Case Management for the 21st Century"
Speaker and Moderator, CCJ/COSCA Southern Regional Civil Justice Reform Summit, May 2018
Panelist, University of Akron School of Law & Akron Law Review, A Day of Disovery: New Trends and Issues in Federal Civil Discovery, April 2018: "Initial Disclosures: The Past, Present, and Future of Discovery"
Speaker and Moderator, CCJ/COSCA New England/Mid-Atlantic Regional Civil Justice Reform Summit, April 2018
Speaker, Missouri Commission on Civil Justice Reform Meeting, February 2018
External Publications
Coauthor, Civil Justice Playbook: To Change the Discovery Culture, Take it One Case at a Time, Corporate Counsel Business Journal (March 2, 2018).
Author, Initial Disclosures: The Past, Present, and Future of Discovery, 51 Akron L. Rev. 783 (2018).
Coauthor, Civil Justice Reformers Aim to Modernize State Courts: Leaders call for states to implement 13 recommendations, Metropolitan Corporate Counsel (July 7, 2017).
Author, Change the Culture, Change the System: A Top 10, Court Manager, NACM, Spring 2016.
Coauthor, Rule Reform, Case Management, and Culture Change: Making the Case for Real and Lasting Reform, Kansas Journal of Law and Public Policy, 2015.
Education
JD, University of Colorado School of Law, Order of the Coif
BA, Chemistry, Environmental Studies Minor, Colorado College, cum laude