Back to IAALS Staff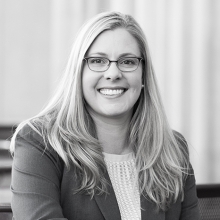 Brittany Kauffman is a Senior Director, overseeing IAALS' programmatic objectives and strategy with expertise in civil justice and judiciary reform at the state and federal levels. 
Kauffman has worked with state and federal courts, rules committees, civil justice task forces, and bar organizations around the country, serving as a facilitator, expert liaison, and consultant on justice system reform efforts. She provides legal and empirical research and analysis to assist in the development of recommendations, as well as support for implementation—all toward the goal of making our civil justice system accessible, efficient, and relevant to the people whom it serves. Examples include Kauffman's work with the Conference of Chief Justice's Civil Justice Improvements Committee, which developed a set of 13 recommendations for transforming civil justice in our state courts, and the American College of Trial Lawyer's Task Force on Discovery and Civil Justice. Following CCJ's issuance of the recommendations, Kauffman has worked with numerous court-appointed task forces and committees at the state level to tailor the recommendations for implementation, including Arizona, Idaho, Missouri, Maine, and Texas. During the pandemic, Kauffman served on the CCJ/COSCA Rapid Response Team Civil Working Group, including both the business litigation and high volume committees. Kauffman also serves on the Legal Services Corporation Rural Justice Task Force and is a Commissioner and member of the Executive Committee of the Colorado Access to Justice Commission.
Kauffman joined IAALS in the spring of 2012 after having practiced with Arnold & Porter, LLP, where she worked in appellate, environmental, natural resources, and Indian law. She was honored in 2009 as a nominee for the Colorado Lawyers Committee Individual of the Year Award for her pro bono efforts. Prior to her work at Arnold & Porter, she served as a law clerk for the Honorable Judge Paul J. Kelly, Jr., of the United States Court of Appeals for the Tenth Circuit.
Kauffman received her JD from the University of Colorado School of Law, where she was a member of Order of the Coif and a Breitenstein Scholar. Kauffman obtained her undergraduate degree from Colorado College, where she graduated cum laude with a BA in Chemistry and a minor in Environmental Studies and was a Boettcher Scholar.
Blog Posts