The Biggest Surprise About the ABA Task Force's Working Paper on the Future of Legal Education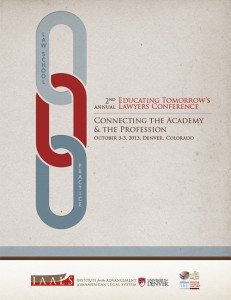 The ABA Task Force on the Future of Legal Education released its Working Paper late last week (update: the ABA has posted a new version as of August 7, 2013). If you have been following the discussions (including the Task Force's work), you've heard about the current landscape of legal education and you may not find many surprises in this 34-page precursor to the Task Force's final report.
But here's what is surprising: everyone seems to agree that the Task Force is on the right track. Sure, the hard part is yet to come. And nobody is saying the Working Paper is perfect. But from the academy to the profession, people seem to think the Task Force has done a pretty good job.
This reception certainly reflects well on the Task Force and the efforts it has made to advance this critical initiative on an expedited schedule. But it might also signal something else. It might signal that change, through collaboration, is possible.
We think so.
In Section VI, the Working Paper describes actions and initiatives that can facilitate change. It cites our Consortium of law schools at Educating Tomorrow's Lawyers as a promising example of an effort to collaborate on innovations in legal education.
And it's not lost on us that our 2nd Annual Conference focuses on three key highlights from the Working Paper:
Connecting the academy and the profession,
Core competencies and how to integrate them in curriculum, and
How accreditation standards could facilitate innovation.
As the Working Paper suggests, there is no one stakeholder responsible for addressing the challenges in legal education. At Educating Tomorrow's Lawyers, we make sure those stakeholders are working together toward an outcome that serves not only the needs of the immediate players—students, educators, employers—but also the broader needs of clients, the legal system, and our society. We know our work has only just begun.