Calls Increase for an End to Judicial Elections in Arkansas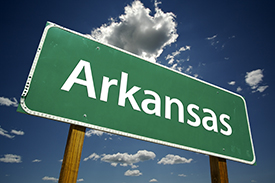 Recent events in Arkansas have prompted some state leaders to call for an end to electing judges, in favor of commission-based gubernatorial appointment.
In May, a contested nonpartisan primary race for an open seat on the state supreme court saw $360,500 on TV ad spending—nearly double the amount spent for a 2012 race. More than $317,000 of this spending came from the Law Enforcement Alliance of America, a Virginia-based group that does not disclose its donors. One of LEAA's two ads accused one of the candidates of viewing child pornography as a victimless crime.
The incoming president of the Arkansas Bar Association responded to the unusually expensive and contentious primary race by encouraging legislators to consider moving to merit selection of judges. Such a bill was introduced in 2013, but it did not progress.
Later the same month, a trial court judge struck down the state's ban on same-sex marriage. State leaders on both sides rejected former Governor Mike Huckabee's call for a special legislative session to impeach the judge, but the Arkansas Legislative Council did adopt a non-binding resolution to explore remedies to combat "judicial activism," including recall of judges. The resolution also condemned the trial court judge's decision and called for the supreme court to reinstate the ban.
Now the same-sex marriage case is coming before the supreme court, and the couples who challenged the same-sex marriage ban are asking that justices planning to seek reelection in the future recuse themselves from participating. According to the motion, the parties are not questioning the justices' ability to be impartial. Rather, they fear that a ruling for the state could appear to be the result of "intimidation tactics" on the part of the legislature.
This recent development led the state's attorney general to urge an end to judicial elections, in favor of merit selection with retention elections. Changing the judicial selection process would require amending the state constitution, an effort that was successful in 2000 when Arkansans approved a move from partisan to nonpartisan judicial elections.