Case Management Training in Maine Furthers Civil Justice Reform Momentum
June 6, 2019
On April 29, Maine continued its efforts toward civil justice reform by conducting an all-day Civil Justice Reform Training Conference for all Maine Supreme Court Justices, Superior Court Justices, District Judges, Magistrates, Clerks, and staff of the Maine courts. Over 150 people attended the training during Maine's Administrative Week. I was fortunate to be able to attend this training to support Maine's reform efforts.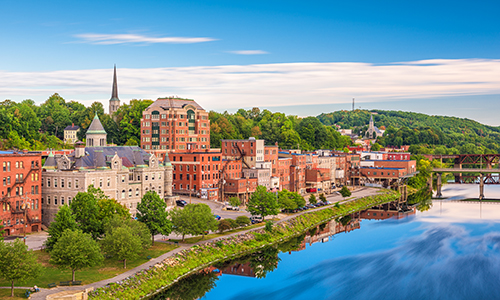 The conference was designed to familiarize the attendees with the establishment of three different case tracks and corresponding proposed amendments to Maine's rules of civil procedure. The training focused on single judge ownership of cases, distinguishing between the attributes across case tracks, and early and active case management.
In September of 2018, the Maine judiciary published the first draft of proposed civil rule revisions on its website, Notice and Opportunity for Input: Civil Justice Reform Through Differentiated Case Management. The Notice contained a summary of civil reform, a draft civil information sheet, and the proposed amendments to the Maine Rules of Civil Procedure. Chief Justice Leigh Saufley issued a letter to the Maine Bar in October 2018 outlining the process for Maine's civil justice reform and announcing the creation of a Stakeholders Working Group. On October 24, 2018, the Judiciary held a hearing to discuss the proposed rules. Based on the comments and testimony at the public hearing, the Maine judiciary is currently making amendments to the proposed rules which will be posted again for public comment.
Maine's civil justice reform efforts have been inspired by the 13 recommendations for reform endorsed by the Conference of Chief Justices (CCJ) and the Conference of State Court Administrators (COSCA) in 2016, designed to transform the civil justice system in our state courts to meet the challenges of contemporary civil caseloads. Following this endorsement, IAALS and NCSC launched the Civil Justice Initiative (CJI) Implementation Plan to support implementation of the recommendations—by developing tools, providing education and technical assistance, evaluating demonstration projects, and hosting regional summits for state action teams. As part of this project, IAALS and NCSC published Transforming Our Civil Justice System for the 21st Century: A Roadmap for Implementation, which provides a clear step-by-step process for moving from initial assessment and definition of issues to working with stakeholders and implementing reform.
Maine is one of four states selected by the CJI Steering Committee to serve as a roadmap state. IAALS is excited to continue working with Maine as it moves through the roadmap process, providing technical assistance, documenting their efforts, and ultimately issuing a case study of the successes and lessons learned from implementation.