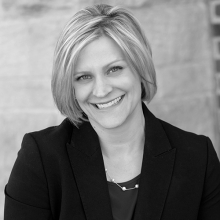 Brooke Meyer is a Manager at IAALS with a focus on our work in civil justice reform at the state and federal levels.
Brooke joined IAALS in 2019 after having litigated in the public and private sectors for approximately 15 years. She began her legal career at Baker & Hostetler's Denver office, where she focused her practice on products liability litigation defense. Brooke then transitioned to the Colorado Attorney General's Office where she represented state agencies in employment matters and litigated civil rights matters on behalf of the Colorado Civil Rights Division. From there, Brooke moved to the Colorado Supreme Court Office of Attorney Regulation as an Assistant Regulation Counsel, where she handled attorney diversion and disciplinary matters.
Desiring to return to the private sector, Brooke partnered with a local firm where her focus turned to providing her clients with personalized navigation of the attorney disciplinary process for attorneys facing ethics investigations, while also seeking justice for plaintiffs in employment discrimination matters. Wanting to increase the reach of her work at the state and federal levels, Brooke is excited to join the IAALS team to work on civil justice reform.
Brooke graduated from the University of Denver Sturm College of Law in 2001. She received her Bachelor of Arts in International Relations from Emory University in Atlanta, Georgia.
Additional Info
Memberships & Affiliations
Appointed Member, U.S. District Court, District of Colorado, Committee on Conduct
Member, Faculty of Federal Advocates
Member, American Bar Association
Member, Colorado Bar Association
Member, Colorado Women's Bar Association
Recent External Publications
Co-Author, New Pandemic Protocols for Business Interruption Insurance Litigation, 50 The Colorado Lawyer 1 (January 2021).
Contributor, Dispositive Motions Practice in Colorado: Best Practices and Challenges Amid the Pandemic, 49 The Colorado Lawyer 10 (November 2020).
Co-Author, Unzipped: Revealing What It Takes to Prevail on Unlawful Sexual Harassment in the Workplace, Trial Talk (2018).
Author, Chapter One, Evidence in Colorado: A Practical Guide (2017).
Author, Identifying Ethical Issues in Representing Combat Veterans with PTSD, Denver Docket (2016).
Recent Speaking Engagements
Speaker, "Stakeholder Engagement," Texas Office of Court Administration, Civil Case Management Workshop, March 2021
Speaker, "Key Steps for Achieving Successful Civil Justice Reform," National Assocation for Court Management, (Intra)Connected Courts: Expanding Justice in Our Communities, August 2020
Speaker, "Fee Agreements and Ethics Issues," Colorado Trial Lawyers Association, August 2018
Speaker, "Proving Wrongful Discharge in Violation of Public Policy Claims," Colorado Trial Lawyers Association, Employment Law Seminar, June 2018
Speaker, "Laying Foundations and Overview of Colorado Rules of Evidence," CBA, April 2018
Education
JD, University of Denver Sturm College of Law
BA, International Relations, Emory University