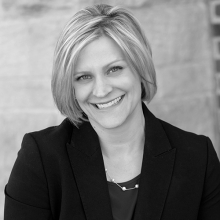 Brooke Meyer was a manager at IAALS with a focus on civil justice and judiciary reform at both state and federal levels.
Previously she litigated in the public and private sectors for approximately 15 years. After clerking in the Denver District Court for Judge Joseph E. Meyer III and Judge J. Stephen Phillips, she joined Baker & Hostetler's Denver office, where she focused her practice on products liability litigation defense. Meyer then transitioned to the Colorado Attorney General's Office, where she represented state agencies in employment matters and litigated civil rights matters on behalf of the Colorado Civil Rights Division. From there, Meyer moved to the Colorado Supreme Court Office of Attorney Regulation as an Assistant Regulation Counsel, where she handled attorney diversion and disciplinary matters.
Desiring to return to the private sector, Meyer partnered with a local firm where her focus turned to providing her clients with personalized navigation of the attorney disciplinary process (for attorneys facing ethics investigations). She also sought justice for plaintiffs in employment discrimination matters. Wanting to increase the scale of her work, Meyer joined the IAALS team to work on judiciary and civil justice reform.
Meyer graduated from the University of Denver Sturm College of Law. She received her Bachelor of Arts in International Relations from Emory University in Atlanta, Georgia.