O'Connor Advisory Committee Members Call for Term Limits for U.S. Supreme Court Justices
August 19, 2021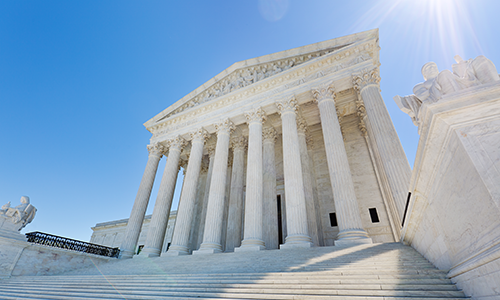 Last month, former Texas Supreme Court Chief Justice Wallace Jefferson and former Arizona Supreme Court Chief Justice Ruth McGregor penned an op-ed for NBC News calling for an end to lifetime appointments on the U.S. Supreme Court. 
Jefferson and McGregor, two members of IAALS' O'Connor Advisory Committee, issued this statement in light of calls for U.S. Supreme Court Justice Stephen Breyer's retirement. Now the oldest justice on the court, he faces a number of voices on the left who believe he should step down so that a younger justice can be appointed while President Biden is still in office. 
Requests for a Supreme Court justice's retirement often surface towards the end of the court term, and are commonly motivated by a perceived or actual partisan advantage. "This political jockeying exemplifies the polarization and dysfunction that now accompanies the filling of seats on the high court," Jefferson and McGregor write. 
Term Limits
Jefferson and McGregor propose limiting justices to a nonrenewable 18-year term for each U.S. Supreme Court appointment, which would alleviate some of the scheming and gamesmanship that surrounds the filling of Supreme Court vacancies. And, as Jefferson and McGregor point out, "lifetime tenure is not essential to judicial independence or democratic governance." In fact, at the state court level, tenured lifetime judgeships are prohibited in 49 states. 
Selection Process
In addition to the length of time justices serve on the Supreme Court, equally important is how justices are nominated. While the U.S. Constitution directs the president to nominate and the Senate to confirm federal judges, the Constitution does not specify qualifications. "Groups who demand fealty to a specific judicial philosophy or ideology have rushed the fill [this] void, leaving the process open to prioritization of nominees selected for reasons other than their judgment, demeanor and wisdom." 
There are states, though, which have sought to prioritize merit over other considerations—in fact, about two-thirds of states use a screening commission to identify and evaluate judicial candidates. "We could alleviate [polarization and dysfunction] by . . . having nonpartisan bodies establish criteria for nominations."
Jefferson and McGregor also point out that accountability, too, is a problem on the Supreme Court. While every judge on state trial, appellate, and supreme courts—as well as on lower federal courts—is subject to codes of conduct, this is not the case when it comes to Supreme Court justices. The public is also kept mostly in the dark when it comes to our highest court's proceedings, as the court doesn't allow cameras during oral argument. 
Presidential Commission
Nominations and confirmations of justices have become so divisive that a special commission, the Presidential Commission on the Supreme Court of the United States, is now studying historical origins of lifetime appointments along with all reform efforts aimed at the highest court. Formed by executive order, the commission's charge is to inform the public and stakeholders of the genesis of the reform debate, as well as study all aspects of the nominations and appointment process, the turnover of justices on the court, and the court's membership and size. The objectives for the final report are to closely study measures to improve the federal judiciary, including those that would expand access to the court system.
The bipartisan commission's meetings, agendas, and minutes are public. The commission also accepts public comments so as to ensure its final report is comprehensive and informed by a diverse spectrum of views. 
According to Pew Research Center, America is more divided politically than ever. Republicans and Democrats are increasingly split on an array of issues, and the 2020 election served as a catalyst for further polarization. Ensuring our country's judiciary remains free of partisanship and outside influence has taken on new urgency. 
"Many of our state courts have increased access, advanced civil justice and modernized operations to strengthen the rule of law," Jefferson and McGregor write. "We should seize the opportunity now to bring similar reforms to the Supreme Court of the United States."