Chief Justice Roberts's 2020 Year-End Message Lauds Courts' Flexibility in Tumultuous Year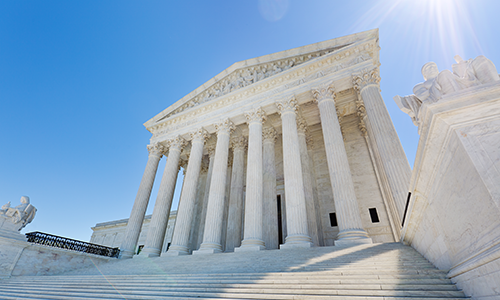 On December 31, 2020, U.S. Supreme Court Chief Justice John Roberts issued his annual year-end report on the federal judiciary. In it, he lauds the flexibility and innovation shown by courts across the country as their operations were upended by the COVID-19 pandemic.
"For the past ten months, it has been all hands on deck for the courts, as our branch of government confronted the COVID-19 pandemic," he wrote, noting how the Supreme Court moved almost all of their attorney filings and opinion announcements online, and, in May, held oral arguments by teleconference for the first time.
But the greatest challenge, Chief Justice Roberts said, "was faced by the 'first to fight' in the judicial family—the trial courts and their staff." Not only are trial courts heavily people-facing, as they interact with lawyers, litigants, witnesses, jurors, court reporters, and others, but "trial judges have obligations under the Constitution and other laws to deal promptly with cases, especially with respect to criminal findings. And they have had to work out how to carry on their vital functions consistent with the best available public health guidance."
In order to meet this challenge head-on, "hearings of all sorts went virtual. Judges quickly (or at least eventually) learned to use a wide range of available audio and video conferencing tools. But this effort required more than just new technology. Judges needed to adopt innovative approaches to conduct court proceedings." When in-person proceedings were called for, judges and court staff rearranged spaces in courtrooms, installed plexiglass, and deployed high-efficiency particulate air filters. Citizens rose to the occasion and exceeded judges' "hopes for the public's willingness to participate in the legal system during these very challenging times."
And yet, trial judges are not the only ones who have demonstrated perseverance. Information technology professionals have ensured that courts could continue their work remotely, and facilities teams, deputy marshals, court security officers, and building staff have made in-person proceedings as safe as possible. Creativity has been key. District courts have found ways to continue administering naturalization ceremonies, with judges in Michigan and Florida welcoming new citizens via drive-through proceedings.
In sum, "state courts—responsible for the vast bulk of judicial proceedings across the Nation—have . . . responded to the present emergency with professionalism and care." Chief Justice Roberts concluded the report by acknowledging the illness and loss experienced by judiciary employees, along with millions of Americans across the country. "My thoughts," he wrote, "are with them."