The Civil Rules Advisory Committee: Pilot Projects to Imminent Rule Changes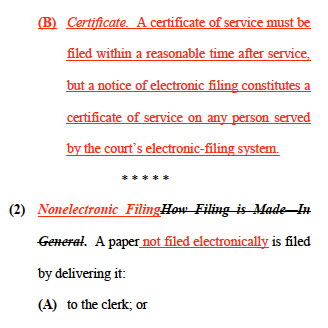 On November 3, the federal Civil Rules Advisory Committee met in Washington D.C. to discuss a range of issues—from current proposed rule amendments to future projects focused on discovery practice and active judicial case management.
The Committee is in the very early stages of reviewing Rule 30(b)(6) with respect to depositions of organizations.. The Committee has taken up this topic following the submittal of a letter by members of the Council and Federal Practice Task Force of the ABA Section of Litigation, in their individual capacities, highlighting current issues in the practice under Rule 30(b)(6). Issues include the objections to Rule 30(b)(6) notices, questioning beyond the topics listed in the notice, and contention depositions, among others. A subcommittee was created to further review the rule, and the early work of the subcommittee is included in the meeting agenda book.
The Committee also provided an update on two federal pilot projects, which were approved by the Judicial Conference in September. The goal of the pilot projects is to advance improvements in civil litigation by testing proposals that may, with empirical support, lead to future amendments.
The first is a Mandatory Initial Discovery Pilot (MIDP), which includes robust, mandatory initial disclosure of relevant information.
The second is the Expedited Procedures Pilot (EPP), which promotes a number of active case management practices, including prompt case management conferences, firm caps on discovery time frames, informal discovery dispute resolution procedures, and setting and maintaining firm trial dates.
The Committee is currently enlisting district courts for the pilot projects, with implementation expected in the spring of 2017.
The meeting was preceded by a public hearing on proposed amendments to the civil rules, which are open for public comment through February 15, 2017. Those proposals include amendments to Rule 5 (e-filing and e-service), Rule 23 (class actions), Rule 62 (stays of execution of judgment), and Rule 65.1 (proceedings against a surety). The most significant of the amendments are to Rule 23, including a proposed list of factors for courts to consider when determining whether to approve a class settlement. The amendments follow several years of study of class-action issues by the Advisory Committee's Rule 23 Subcommittee.
Before the amendments are adopted, they must be approved by the Committee on Rules of Practice and Procedure, the Judicial Conference, and the Supreme Court. If Congress does not act, the amendments would become effective December 1, 2018.
Finally, amendments to Rule 4 (summons), Rule 6 (timing related to electronic service), and Rule 82 (update to reflect statutory change) have been adopted by the Supreme Court and transmitted to Congress. These amendments are on track to become effective December 1, 2016.
We will continue to monitor these pilot projects and proposed rules changes, which are an important piece of the puzzle for improving our civil justice system.